Research and development (R&D) at Vetoquinol involves over 150 employees worldwide – from our Scientific Division, Research and Medical Division and Global Project Management Division. Every Vetoquinol project involves collaboration through the creation of multidisciplinary teams involving several departments, working together to unlock new innovations.
Vetoquinol researchers explore the paths which lead from the active principle to the animal. A large amount of creative work is necessary in order to make treatment as efficient and easy to administer as possible, in other words, to make it useful and usable. In this process, teamwork is a key element of success when it comes to seeing projects through to their conclusion.
Pharmaceutical research, a long and complex process
Image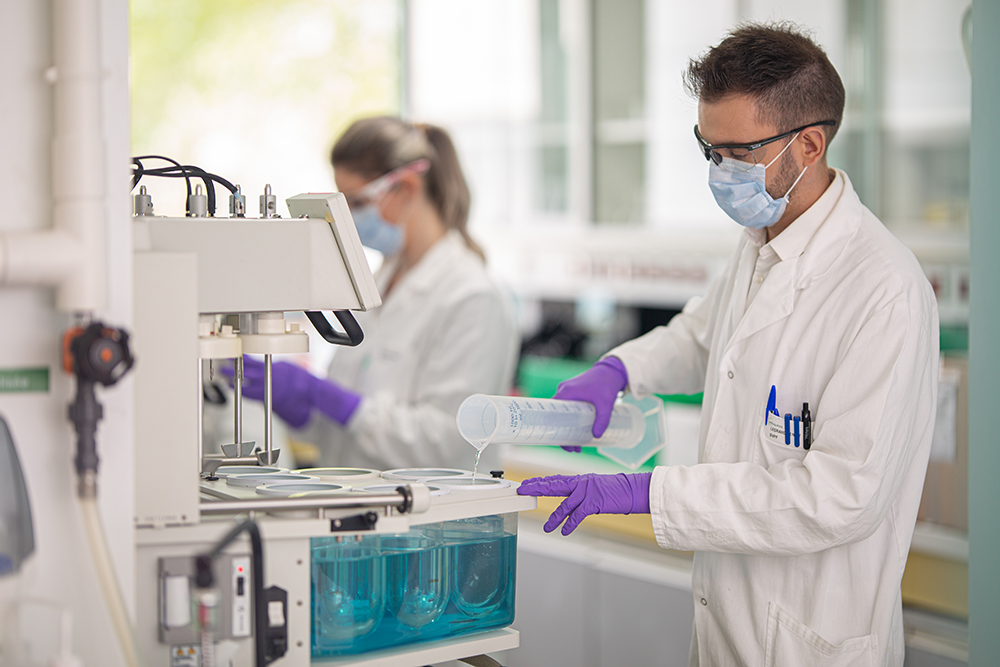 The development of a new veterinary drug requires time (on average between five and ten years), the participation of multidisciplinary teams and major investments.
Vetoquinol has implemented a "Technological Innovation" programme to envision numerous paths of innovation for projects underway. This forges a firmer understanding of efficacy, tolerance and observance.
The pharmaceutical technologies with highly innovative formulations developed as part of this programme are applied to different galenic forms. In the research process for veterinary drugs, galenic considerations are a key element: one must constantly invent pharmaceutical formulas which are easy to use for vets, livestock farmers and pet owners.
Through these technological advances, Vetoquinol is able to meet the vital needs of its customers by creating new-generation drugs featuring modified release, improved bioavailability, and the concealed taste of active principles for enhanced palatability. Vetoquinol works for the safety of the animal, its owner, and also for the profitability of the livestock farmer who will put his animals quickly back into production without any risk for the consumer.
Some examples where the galenic approach makes the difference:
• Palatable tablets, taken willingly by dogs and cats 
• Injectable formulas, long-acting, single-dose, useful for injecting herds with antibiotics
• Oral treatments, administered easily and accurately daily by owners to dogs
Marketing Authorisation, the ultimate objective of R&D at Vetoquinol
The marketing of any drug for humans or animals hinges on receiving marketing authorisation (MA). Granted on the basis of an exhaustive file, MA proves the product meets health authoritie's requirements in terms of quality, safety and efficacy. Once the product has been marketed, Vetoquinol continues to monitor the safety and efficacy of our drugs.